Welcome to Prague Adventures
Are you planning a Team Building or Company Event in Prague, Czechia, or elsewhere in Europe?
You have business in Prague. You live in Prague. You travel to Prague…If any of these apply to you, it's time to embark on the exploration that Prague and the beautiful Czech Republic has to offer. Then contact us and see how we can use our 20+ years of experience to help make it great!We have many years of experience working with local and international companies that have multi-cultural teams. We pride ourselves on our safety record, client satisfaction and our ability to design and deliver high quality customized experiences that meet our client's most demanding needs. We will always help you get the most value out of your budget!
Top Team Building Activities
Welcome to Prague Adventures. We would like to ensure you receive the highest quality of customer service and ensure that your team building or company event will be a fun, safe, and memorable experience. We believe that learning can be fun and that fun can be learning. Let us know how we can help!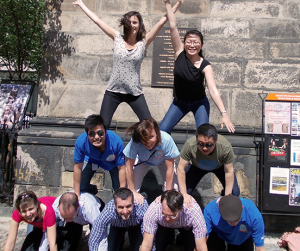 This fun, energetic, and interactive activity has small teams competing throughout the streets of Prague, fulfilling various team tasks. You've never seen Prague this way before!
Prague Adventures, Team Building and Company Events at their best!
Once we understand your goals and vision for your Team Building or Company event, we will then prepare for you a proposal with some fun and creative ideas that will meet those goals.
Once we agree on the event concept and budgets, we will prepare and deliver your event in a safe, economic, and professional manner.
After the event we will provide you with feedback, photos, and some ideas of what you could do next to build on the experiences we just shared.


15,000 Prague Quest Steps

50,000+ Happy Participants

Our mission is to help teams Explore Their Potential, and ensure they have a Memorable, Safe and Fun Experience!